Bangalore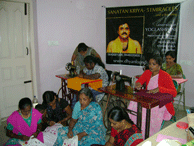 Taking forward DYS' mission of empowering women and making them self-sufficient, the AnandVidyalaya Vocational Training Centre was set up in November, 2011 with 4 sewing machines donated by volunteers, their families and friends and 8 women students.At the unit, these women learn not just stitching but also embroidery work. The first batch graduated in March 2012. The popularity of the course propelled DYS to increase the number of batches to two with 16 women in total per three month course. Needless to add, it is free of cost as all other DYS initiatives.
The Psychiatric Rehabilitation Services Department of the prestigious NIMHANS approached DYS to train and equip their patients with the requisite skill to enter the mainstream and find employment. TheVocational Training Centre now has five psychiatry recovery patients from NIMHANS who attend the tailoring classes. Some require special attention and the teacher ensures that each person is attended to and given adequate time.
The plan is to increase the batches as well as the number of Centres across Bangalore. Going by the waiting list of prospective students, the day does not seem very far when we have a Centre in each Zone.