Gurgaon Centre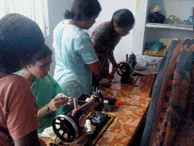 Gurgaon Centre
In the midst of a throbbing residential locality in Gurgaon , in a nondescript space, lives of countless women are being changed year on year.Women busily learn the art and craft of stitching, embroidery, patch work etc. and unknowingly change the dynamics of their lives,slowly but surely. Each weekday, these rural women set side two hours to transform ordinary pieces of cloths into magnificent looking pieces of art.They redefine not just cloth pieces but thread the success of their own lives and many others'.
Ramesh ji - the teacher, is compassion and patience personified.A diploma holder in tailoring from Siri Fort, Khel Gaon and armed with 9 years experience in teaching the art, she ensures that every student is given adequate attention.
Since most of these women are illiterate, the biggest challenge lies in teaching them the use of tapes and scales,the most basic requirement in tailoring. But Ramesh ji, very patiently, teaches them basic counting and easy ways to measure the cloth.After they master the basics, Ramesh ji encourages them to weave magic with the cloths with intricate designs and patterns.
The DYS initiative has given these women the opportunity to become self reliant by throwing open multiple avenues of gaining employment and changing their own lives and the society forever.
Stories